NEWS AND VIEWS

Werlinich Asset Management, LLC
400 Columbus Ave.
Valhalla, NY 10595
914-741-6839
800-746-6926
Email: greg@waminvest.com
URL: www.waminvest.com


---
The Market Powers Ahead
Gold Is The Real Bull
No Jobs Here
More Statistics
The Benefits of Long Term Care Insurance
It's Time To Review Your Investment Strategy
News and Notes
This cartoon by Ted Rall perfectly illustrates what productivity means to job growth.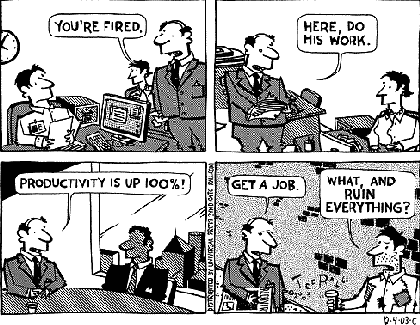 Market Analysis...Full Steam Ahead
Last month I called the November action in the market "The Pause That Refreshes". It was just that; a pause. In December the market continued its powerful rally pushing all of the major composites to new two-year highs. The Dow ended the year at 10,453 and continued to rise early this year, hitting a high of 10,592. It has backed off a bit from there, but all indications suggest that the rally will continue for a little while longer. I think it is important for the Dow to stay above 10,000 in any pullback. It will also be a critical test for the rally for the Dow to crack the 11,000 barrier. Otherwise, we might just stay in a trading range of plus or minus 5% for a while. I predict that we will break 11,000 before we fall below 10,000.
Interest rates remain low. I predict that the Fed will not raise short-term rates this year, and if they do, it will be no more than a 25 basis point increase. Even though the economy appears to be improving, it remains a "jobless recovery" and there is just too much debt, personal and governmental, to risk a rate increase. The Fed would also prefer not to change the rates, and thereby choke off the economic recovery, during a presidential election period. Notwithstanding my belief that short rates will stay low, there is still a risk that long-term rates might rise due to the deficits and the falling value of the dollar.
Bond investors didn't fare very well as rates rose in the second half of the year. Bond prices continue to forecast a very mild inflation rate of about 2.00% to 2.25%. The yield on the 10-year treasury remained below 4.50% in December, as I predicted. It is tough to gauge the direction of long-term rates for this year. I can see rates rising above 5% or dropping back to around 4% given different scenarios. My feeling is that rates will stay below 4.5% for the first half of the year, then begin rising in the second half. If that happens adjustable rate mortgage holders would be at risk.
| | | | | |
| --- | --- | --- | --- | --- |
| Index | December | QTD | YTD | Description |
| S&P 500 | 5.08 | 11.65 | 26.38 | Large-cap stocks |
| Dow Jones Industrial Average | 6.86 | 12.71 | 25.32 | Large-cap stocks |
| Nasdaq Composite | 2.20 | 12.11 | 50.01 | Large-cap tech stocks |
| Russell 1000 Growth | 3.46 | 10.42 | 29.75 | Large-cap growth stocks |
| Russell 1000 Value | 6.16 | 14.19 | 30.03 | Large-cap value stocks |
| Russell 2000 Growth | 0.45 | 12.68 | 48.54 | Small-cap growth stocks |
| Russell 2000 Value | 3.62 | 16.37 | 46.03 | Small-cap value stocks |
| MSCI EAFE | 7.82 | 17.11 | 39.17 | Europe, Australia, Far East |
| Lehman Aggregate | 1.02 | -0.32 | 4.10 | US government bonds |
| Lehman High Yield | 2.26 | 5.91 | 28.97 | High-yield corporate bonds |
Based on my optimistic near-term view of the market I have reduced my cash holdings and adding to my stock positions. I continue to invest heavily in certain key sectors, and have enjoyed strong results from these allocations. I don't mind missing some of the upside from the latest tech bubble to protect my investors from the inevitable downfall. Give me a call to find out what sectors of the market I favor and if you can benefit from this strategy.
Gold...The Real Bull Market
The bull market in gold continued in December and early January as prices rose from $400 to a little over $425. The price of gold rose $66 an ounce in 2002 and another $68 in 2003. Not surprisingly, after such a meteoric rise, there will have to be some profit-taking and consolidation. All precious metal prices have dropped recently. This is a good thing because it allows investors who have not yet climbed aboard the bull to have an opportunity to get in. People who are investing in gold should not try to trade the movements because they will invariably be on the sidelines during a major upwards move. By holding your positions you also reduce trading costs and eliminate taxes. I am convinced that this bull market is far from over. I think we'll see gold blow right past $450 on its way to $500 and above. The chart below clearly shows the rising trend for the past year.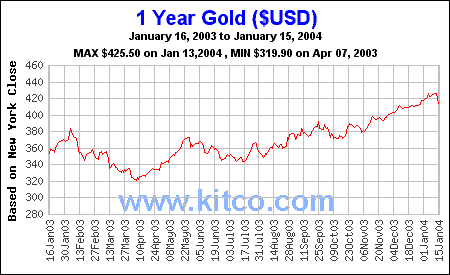 No Job Growth Here
There's a lot of debate about employment, or the lack thereof, in this country right now. Many economists and market seers are trumpeting the relatively low levels of initial claims for unemployment as a further example of the improving economy. Except for a higher than expected figure of 353,000 (up from 339,000 the week before ) released last week, the weekly initial jobless claims reports had been steadily declining. The four week moving average, which smoothes out the weekly fluctuations, has declined from 407,000 in September to 355,750 for the week ended January 9. Over the same period of time, the unemployment rate has fallen from 6.2% to 5.7%. On the surface, these numbers appear quite good.
The problem is that these simple statistics don't tell you the whole story. What these numbers don't account for are the many people who have given up looking for a job and no longer appear as "unemployed". If you haven't found a job by the time your unemployment insurance runs out, you no longer count as unemployed. In fact, the labor department reports that in December there were about 1.5 million persons who were "marginally attached to the labor force" and therefore not counted as unemployed. These were people who had not looked for work in the past four months, or who had just given up looking altogether. So there is a real disconnect between the "unemployment" figures, which are shrinking, and the "employment" numbers, which are not growing. Eventually, that lack of growth could be a real problem for our economy.
So if the economy is growing and corporate profits are booming, where are all of the jobs going? The answer continues to be...overseas. In the name of productivity, companies are moving more and more jobs to the Far East. China is rapidly becoming the manufacturer to the world. The loss of manufacturing jobs in this country has been well documented. Service jobs are next. The cover story in the December 8, 2003 issue of Business Week was entitled "Why Corporate America Is Beating A Path To India." The article describes the exodus of software engineering, IT (information technology), back office, call center and even accounting jobs to India. The article predicts that the next big move will be in financial services jobs. To prove the point, IBM recently announced that they would be moving 4,730 professional jobs to India and China. As more and more businesses move high-paid professional jobs overseas, where those roles can be filled for 1/10 the cost, the trend will become irreversable. The Chinese have hundreds of millions of people to employ and they will keep their wages low relative to US wages in order to fill as many jobs as possible.
What does this all mean to you? As a consumer, it means that prices will stay low and even go lower for many of the goods and services that you buy. Consider this the "Wal-Martization" of America. In the bigger picture, it means that there is little chance of meaningful inflation any time soon. This will help keep interest rates down. On a more personal level, it puts even more American jobs at risk. If you are in manufacturing, you should consider learning a new skill. If you are in a service industry that doesn't require a local presence, like help desks and software design, your job may be in jeopardy.
Statistics to Watch...More Good News
In its December 29 issue, Business Week asked 59 experts to forecast some key economics indicators for 2004. Their average estimate for GDP growth in 2004 was 4.1%. The average quarterly estimate started at 4.3% in Q1, then falls to 4.2% in Q2, 4.0% in Q3 and ends at 3.8% in Q4.

The same experts see CPI inflation at a tame 1.9%, unemployment at 5.6%, the yield on the 10-year treasury note at 5.0% and the Fed Funds rate at 1.7%. About half of the group believes that the Fed will begin to raise rates in Q2.

In the same issue, a different panel of 66 experts had the following forecasts for the stock market this year: 10,665 for the Dow, 1,166 for the S&P, 2,143 for the Nasdaq and 598 for the Russell 2000. Only 8 of these experts see the Dow below 10,000 by year-end.

Producer prices rose 0.3% in December for an annualized rate of 3.6%. Most of that rise was due to increased energy costs. Without that component, prices remain basically flat.

New orders for manfuctured goods in November decreased by $4.9 billion, or 1.4%. Shipments increased $0.1 billion and inventories decreased $0.8 billion, marking the sixth month out of seven that inventories have fallen, demonstrating that businesses are spending money again.

Personal income rose 0.5% in November, the largest increase in five months. Spending increased by 0.4%. Savings increased by 0.1%. These are all good signs.

The unemployment rate dropped to 5.7% in December. The initial weekly jobless claims averaged about 362,250 for the month. Total unemployment remained at 8.67 million. The problem is that only 1,000 jobs were created in December, surprising analysts who had predicted that more than 150,000 would be created.

Sales of new homes fell 2.4% from October to an annualized rate of 1,082,000 units, down from a revised 1,109,000 unit pace. On a year over year basis, new home sales are up 11.6%. Existing home sales fell 4.6%, following a 4.9% drop in October.

The Consumer Confidence Index fell slightly to 91.3 in December from 92.5 last month.

The American Association of Individual Investors Sentiment is 67.2% bullish and 17.9% bearish. Obviously that is a very bullish feeling.

According to a report from the Federal Reserve, the consumer debt (not counting mortages) of the average American household is $19,000, with $12,000 of that being credit card debt carried forward each month.

Personal bankruptcies are reaching record levels of just over 1.5 million people per year.

The yield on the 10-year treasury dropped again last month. It now hovers around 4.0%. The differential betweeen the Treasury and the TIPS has fallen to 2.23%. There seems to be no fear of rising inflation.

The dollar recently hit an eleven year low vs. the British pound. The dollar dropped 20% vs. the Euro last year after falling 18% in 2002. That represents a staggering loss of $10 trillion in currency translations over two years.
So what does all this mean to you? It means that there continues to be upward momentum in the economy and the stock market, but trouble still looms. I'm concerned about what's going to happen after the election. We must begin to reduce the federal budget and trade deficits. We must stem the decline in the dollar. We must begin to create jobs. Unless these things happen, interest rates will be forced up, and the economy, along with the stock and bond markets, will turn down. I am cautiously optimistic right now for a flat or slightly higher stock market in 2004, but worried that if things don't improve over the next few months, we could see a return to the bear market.
Monthly Tip - Long Term Care Insurance
When people consider the subject of long-term care, the often think about nursing homes. In fact, long-term care has little to do with nursing homes. According to Andrew Cavaliere, CLTC, CSA, understanding the difference can help you protect your family and your finances.
Long-term care is a continuum of care services and housing you will need when you live a long life. The longer you live, them more likely you are to need care. The question is not who will take care of you, but rather what providing that care will do to your family and your finances.
Long-term care happens when you need assistance with your activities of daily living (toileting, bathing, dressing, eating, transferring from one point to another and incontinence). It also includes severe cognitive impairment. You may be surprised to learn that this care is overwhelmingly provided at home. The key question is who will pay for it?
Medicare pays only for skilled or rehabilitative care, not custodial care in any venue. Medicaid will pay for custodial care, but primarily in nursing homes. Funding for home care and assisted living is very limited and based on availability of funds. As a result, consumers are forced to pay privately for their care. Unfortunately, most retirement plans allocate funds to pay for retirement, not for living a long life. So what can you do to protect yourself and your family?
Long-term care insurance (LTCI) can be an important part of planning for disability caused by living a long life. The product has two roles: helping to keep familes together and allowing your retirement portfolio to be used for its intended purpose: to pay for your retirement. LTCI doesn't replace the need for family involvement in providing care, but rather builds on it. It pays professionals to assist with the more difficult tasks, allowing the family to provide care better and longer in the home.
When buying this insurance, look for a long-term care specialist. Consider their training, educational credentials and commitment to help solve your long-term care needs. The professional should be focused about the plan that is right for you, not in selling you a particular product.
If you are over 60, or have a parent or grandparent over 60, you may want to consider speaking with someone about LTCI and whether it is right for you and your family. If you have any questions, you may contact Andrew at New England Financial at 866-633-2370 x274 or by email at andrewjcavaliere@msn.com. As always, if I can be of any help, just give me a call.
Financial Planning Suggestion...Review Your Investment Strategy
Many people use January as a time to reevaluate the status of their portfolios. It's a time to judge the investment performance from the prior year, make adjustments to their asset allocations where needed, and revise their investment strategy for the new year. Whether you are managing your own money, working with a broker, or working with an investment advisor, here are some suggestions to help you with this process:
Review the status of your 401(k), 403(b) or 457 accounts. If it is financially possible, make the maximum annual contribution. Make sure that you take advantage of any company matching plans. Ensure that you don't have more than 10% of your funds in any one security or fund. And try to construct a reasonably well diversified asset allocations that offers a solid potential return for a modest risk. If you're not sure what to do, seek professional guidance.

If you have young children, and are not yet aggressively setting aside money for college, start now. Look into Coverdall Education Savings Accounts and Section 529 College Savings Plans. Are you taking advantage of all the opportunities to fund those plans and are you investing that money wisely? Again, if you aren't sure, seek professional guidance.

If you have an IRA, and you haven't already done so, make your 2003 contribution. Also consider making your 2004 contribution now. If possible, make the maximum allowable contribution of $3,000 ($3,500 if you are over 50) Which IRA should you fund, a traditional or Roth IRA? Do you qualify for a Roth IRA? If you aren't sure, you can visit my website at / and click on the "Retirement Accounts" tab for more information. If you still have questions, either ask your tax professional or give me a call.

This is the perfect time of year to sit down with your investment advisor and review the goals and objectives that you had set for the prior year, determine if those objectives were met, and agree on a course of action for this year. Your advisor should be able to articulate a clear, over-arching strategy for all of your investments, an explain the reasons underlying that strategy. If you aren't happy with what you hear, or with the level of service or quality of results provided by that advisor, then you should consider looking for a new advisor.

Investment strategies aren't static, they are dynamic. They must change with the times. A plan put in place at this time last year may or may not be right for you any more. It's impetitive that you monitor the progress of your strategy and make changes when necessary. If you don't feel that you have the time, interest, energy or ability to make those changes, then hire someone to do it for you. You worked hard to earn that money; now let it properly work for you.
Personal News and Notes
I want to thank all of you who watched my appearances on Fox News in December and emailed or called me with your kind words. I really appreciate it. If you missed my last show, the video is now available on my website at the bottom of the homepage.
I'm very excited to share my latest news with you. This week I signed an agreement with Larstan Publishing to co-author their new book called The Black Book On Personal Finance. I will be writing a chapter on Investment Strategies with a focus on sector investing. I will begin working on the chapter next month. The publisher hopes to have the book in stores April or May. I expect each of you to pick up a copy (or two!). I'll share more details with you over the next couple of months.
In early February I will be teaching a class on investing at SUNY Purchase. If you live in the New York area and would like to attend the class, please let me know and I'll ask the professor if you can sit in. I don't think it would be a problem.
Last year was a very good year for me and for my business. I have a lot of exciting things planned which should make this year the best yet. I look forward to sharing these events and successes with you as they happen. More importantly, I am eager to be an even greater resource to my clients and my readers this year so that can help each of you reach your financial goals.
Best regards,
Greg Werlinich
President
Werlinich Asset Management, LLC
400 Columbus Ave.
Valhalla, NY 10595
914-741-6839
800-746-6929
greg@waminvest.com
WAMInvest.com

---
Please click here if you no longer wish to receive this newsletter.
Copyright© 2004, Werlinich Asset Management, LLC and /, All Rights Reserved.
Market Analysis...All Rise

Last Month's Results - Huge Rally

What I'm Doing Now...Ready for 2006

Statistics...Mixed Messages

Trends To Watch

Monthly Tip...Estate Planning

Personal News and Notes


For the second straight year, after ten mediocre months, November brought a huge rally that raised the market into positive territory for the year. All of the broad market averages were up strongly, which is clearly shown in the Last Month's Results section. And the market has managed to retain those gains so far this month, but not without quite a bit of volatility (see the graph below). After rising to 10,960, the Dow quickly dropped back below 10,800. As I write this morning, the Dow is hovering around 10,900. Obviously, the next big hurdle for the Dow is to surpass the psychological barrier of 11,000. If it can do that, the next big target would be the five year old high of 11,700.

After rising about 750 points in the past two months, the Dow has broken out of the relatively narrow trading range that it had been stuck in for most of the year. It will be very interesting to see what happens over the next two weeks before the end of the year. Will it pierce 11,000 or trend back down? Stay tuned.
Another interesting, but not at all surprising, trend to me is the recent strength in oil prices. After a three-month slide that dropped prices from $70 to $56, the price for West Texas Crude is back to around $60 per barrel. Unlike many analysts, I never expected the low prices to hold, if for no other reason than winter has arrived for much of the country, and the cold weather will increase the use of home heating oil and natural gas. I can tell you that my combined electric and gas bill doubled from October to November. It is going to be a very expensive winter for many people this year. I'll say it again; I believe we are in a bull market in energy and natural resources. We're just in a period of consolidation right now. Times like this shake out the weak investors and embolden the strong ones.
The two-month increase in Treasury yields appears to be over, at least temporarily. Yields have fallen from a high of almost 4.7% to a shade above 4.4%. Not surprisingly, this weakness has coincided with the recent weakness in the dollar (see below). As expected, the Fed increased the short-term lending rate at their meeting last week. While they moderated their language a bit, it is expected that they will tighten again at the January meeting, bringing the short-term rates to 4.5%. If the long-term rates don't move higher, that might result in an inverted yield curve, which almost always presages a recession. The spread between the 10-year Treasury and the TIPS has dropped a bit to 2.40%, which indicates that inflation fears are abating.


Last Month's Results...Huge Rally
As always, I provide the following chart to show the raw results for the month, the quarter-to-date and the year-to-date. November provided the big rally that investors were waiting for. There were big gains across the board and they were large enough to push all the major indices into the black for the year. I have to admit that I didn't expect this rally to happen. That being said, I'm perfectly happy to enjoy the gains, along with everyone else. Now we just have to wait and see what happens between now and the end of the year to see if the Dow and S&P will end the year in positive or negative territory.


| | | | | |
| --- | --- | --- | --- | --- |
| Name of Index | Nov | QTD | YTD | Description |
| S&P 500 | 3.52 | 1.69 | 3.10 | Large-cap stocks |
| Dow Jones Industrial Average | 3.50 | 2.24 | 0.21 | Large-cap stocks |
| NASDAQ Composite | 5.31 | 3.77 | 2.64 | Large-cap tech stocks |
| Russell 1000 Growth | 4.31 | 3.30 | 5.59 | Large-cap growth stocks |
| Russell 1000 Value | 3.29 | 0.67 | 6.42 | Large-cap value stocks |
| Russell 2000 Growth | 5.66 | 1.75 | 4.31 | Small-cap growth stocks |
| Russell 2000 Value | 4.06 | 1.45 | 5.52 | Small-cap value stocks |
| MSCI EAFE | 2.25 | -0.73 | 5.98 | Europe, Australia, Far East |
| Lehman Aggregate | 0.44 | -0.35 | 1.46 | US government bonds |
| Lehman High Yield | 0.52 | -0.18 | 1.86 | High-yield corporate bonds |
What I'm Doing Now...Ready for 2006
Over the past month I made some minor year-end adjustments to the portfolios. Wherever possible, I matched up losses with gains to minimize the effects of capital gains taxes. I also trimmed some of the weaker positions to add cash to the accounts in case some better opportunities present themselves. As I've said many times, there's nothing wrong with having some cash in your account. And with all of the rate increases, that cash generates a much better return now.

WAM's opportunistic buying of additional oil and gas positions in November have paid off so far with the recovery in the price of West Texas Crude (see above). Barring some drastic unforeseen events in the last two weeks of the year, our portfolios will have their third consecutive year of double-digit profits. All of our key sectors performed as expected and I see no reason why next year won't bring similar returns. I very much like the way WAM's portfolios are positioned for 2006.
Statistics To Watch...Mixed Messages
There was an increase of 215,000 non-farm jobs in November after an anemic October. As I've said before, I won't attribute any significance to the number of jobs added or lost for the rest of the year as the post-hurricanes employment picture gets sorted out. Average hourly wages rose to $16.32 from $16.29. The average workweek inched down to 33.7 hours.
The number of unemployed workers in November increased to 7.58 million from 7.43 million in October. The number of seasonally adjusted people who for economic reasons could only find part-time work fell to 4.2 million. There were another 3.8 million people for whom business conditions or lack of opportunity forced them to take part-time work. The number of marginally attached workers (those individuals who had looked for work sometime in the past year, but not in the past four weeks, and are therefore not counted as unemployed) remained at 1.4 million. My adjusted Comprehensive Labor Index™ fell to 11.89%, it's lowest rate of the year. The official unemployment rate reported by the government remained steady at 5.0%.
The number of people holding more than one job in November fell to 7.59 million. This is down slightly from the same time last year.
The most recent four-week average for initial jobless claims held steady at around 321,250 for the last month. The low for the year was 306,000 and the high was 394,000 (post-Katrina).
The University of Michigan Consumer Confidence Index in November rose (not surprisingly) to 81.6 from 74.2 in October. This rise coincides nicely with the rise in the stock market during the same period of time.
According to CBO estimates, the federal deficit for November was $82 billion, which was $25 billion more than the same period last year. The national debt is now a staggering $8.1 trillion.
According to the Census Bureau, the U.S. trade deficit grew to a new record high of $68.9 billion in October from a revised $66.0 billion in September. By itself, trade with China represented $20.5 billion of that deficit.
The Labor Department reported that on a seasonally adjusted basis, the CPI for all urban consumers fell 0.6% in November. That was the largest single-month drop in 55 years and can be attributed to the rapid fall in oil prices. The "core" CPI, which excludes food and energy, remained steady at 0.2%.
The Federal Reserve reported that total outstanding consumer credit was fractionally lower in October, falling to $2.157 billion. Consumer indebtedness remains at record levels.
The American Association of Individual Investors' (AAII) bullish sentiment was surprisingly weak recently, falling in each of the last two weeks to its current level of 49.5%.
According to the Census Bureau, retail trade and food service sales edged up 0.3% in November and were up 6.3% from the same period last year.
The Census Bureau reported that privately owned housing starts in October fell 5.6% from September to a seasonally adjusted annual rate of 2.014 million. This was also 2.3% below the same period last year and the second lowest level of the year.
The Census Bureau reported that on a seasonally adjusted annualized basis, sales of new homes in October rose 13% to a projected 1.424 million units, following up on a good September. The estimate of 496,000 new homes for sale represents about 4.3 months at the current rate of sales, a decrease from the last two months. We'll have to see if this is a brief anomaly or the reversal of a weakening trend in the housing market.
The National Association of Realtors reported that on a seasonally adjusted annualized basis, sales of existing homes were were down 2.7% in October to a projected 7.09 million units. The estimate of 2.868 million existing homes for sale represents about 4.9 months at the current rate of sales, and is the largest available supply in years. Average sale prices continue to remain high.
The Institute for Supply Management (ISM) index of manufacturing activity measured 58.1 in November, down from 59.1 in October. This marks the 30th month in which economic activity in the manufacturing sector is reported to have grown. Anything above 50.0 is considered to be an indication of growth.
According to the Bureau of Economic Analysis, the "preliminary" estimate of real gross domestic product, the output of goods and services produced by labor and property located in the United States, increased at an annual rate of 4.3% in the third quarter of 2005. This is an increase over the "advance" estimate of 3.8% released last month. It is unlikely that the fourth quarter will maintain this level of GDP growth.
The Fed continues its policy of flooding the market with dollars. The Fed has increased the supply of M-3 by 7.4% this year and by 8.9% in the last three months alone. This injection of money is very inflationary and continues to erode the value of the dollar.
Foreigners now hold over $1.5 trillion in US debt. Everyone please send a thank you note to the Chinese and Japanese governments for financing our country.
The NYSE reported that over four days in early December, a seat on the Exchange sold for $4 million, a new record price. Since then, the price has fallen rapidly to $3.275 last week.
I'm going to sound like a broken record but I continue to be amazed by the resiliency of our domestic economy and the recent strength of the stock market. The labor market is strong and consumer confidence appears good enough. GDP growth is excellent and inflation appears to be under control. That being said, the same storm clouds I've been talking about for a while continue to exist. My biggest worry is rising interest rates and its eventual effect on the housing market. I'm also worried the consumer may be tapped out, which would hurt the retail sector. In addition, the twin deficits continue to grow, seemingly unabated. We're still in Iraq with no clear exit strategy in sight. And finally, if the yield curve inverts, as it is close to doing, it is an almost perfect predictor of a looming recession.
The broad, year-long trading range of 11,000 to 10,000 for the Dow continues to hold, albeit barely. All we can do is watch and wait to see if this range will be broken.
The price of gold exploded in November and early December to a peak price of $541 per ounce, its highest price in 18 years. Over the past week, prices have dropped considerably, resulting in a current price of just over $500. For three years I've been advocating that everyone should have a position in gold. My prediction that gold would reach $500 is now a reality. I'll have a new prediction next month.
Concurrent with the rise in the price of precious metals is the general rise in the price of all commodities. The following chart, which mirrors some of the movement in the price of gold, shows that like gold and oil, commodities are in a bull market right now, with a very solid upward trend.
The value of the dollar had been rising in lockstep with the increase in interest rates until very recently. Over the past two weeks the dollar has weakened significantly, possibly because of the horrible deficit numbers. I'll be looking to see if the dollar manages to stay above its 200-day moving average.
The price of oil continues to consolidate between $55 and $60. Don't let this move fool you; the bull is still in charge here.
I think the real estate market is on very dangerous ground. If interest rates continue to rise, housing starts and home sales cool, it will break the piggy bank used by many Americans for the past few years and would likely plunge us right into a recession.
As expected, the Fed increased their short-term lending rate to 4.25%. It is likely that they will increase the rate to 4.50% in January at Chairman Greenspan's last meeting. As I've said before, pay very close attention to the yield curve. If it flattens, or inverts (where short-term rates are higher than long-term rates), a recession is very likely to follow.
Monthly Tip - Estate Planning
This month I've asked Kevin Cohen, an estate planning attorney and elder care attorney, to review some of the important issues in estate planning. This is a very important topic for every one of my readers. I hope after reading this, many of you will be moved to take immediate action on your own estate plans.
I am always surprised to learn how many friends, relatives and colleagues do not have a will. Unfortunately, the cost of dying without a well thought out, comprehensive estate plan can be extremely expensive. Often, the excuses I hear from those who put off meeting with an estate attorney include: "I don't have the time"; "I don't think it is necessary"; "It's too expensive" or "I just can't contemplate my own death, it's too scary". This article addresses these issues and will guide you through the process of establishing an estate plan.
Who needs an estate plan?
1. Parents With Young Children.
No matter how large or small your estate is, every parent of minor children needs a will. A will not only distributes one's assets, but also provides for the election of a guardian for children who are under eighteen. Parents are usually best-suited determine who should care for their children in the event of their untimely death. In the absence of a will, relatives or others who may not have been the deceased parents' first choice can petition the court to appoint them as guardians of the surviving minor children.
A guardianship proceeding is time-consuming and costly, leaving the minor children in a state of limbo until a final decision is rendered by the governing court. Moreover, without a will, the children will have very limited access to the estate assets while they are minors. More troublesome is that all of the assets will be distributed to the surviving children upon their eighteenth birthdays. Most parents believe that an eighteen-year-old is too young to be completely responsible for his/her own finances. A will can govern how and when the estate assets will be distributed to the surviving children through a trust provision.
2. Married Couples With Assets Exceeding $1,000,000.
A married couple with assets in excess of $1,000,000 can benefit dramatically from a well prepared will that serves to maximize their state and federal estate tax exemptions. Many clients believe that they don't need to concern themselves with estate tax issues, particularly in light of the increase in the federal estate tax exemption[1]. However, life insurance proceeds[2] and retirement accounts are included in a taxable estate, and when coupled with the inflated value of real property, most married couples have more assets than they think. Further, it is important to note that New York State will continue to tax estates valued in excess of $1,000,000.
Failure to maximize the estate tax exemptions in both spouses' estates can result in the surviving beneficiaries paying hundreds of thousands of dollars in taxes which could otherwise pass to the couple's children. Many simple wills provide that on the death of the first spouse all assets pass to the surviving spouse and on the death of the surviving spouse, everything passes to the children. The problem with this plan is that by failing to use the estate tax exemption of each spouse, a significant amount of estate tax is paid which could otherwise be protected with a professionally drafted will.
3. Business Owners.
Business owners can benefit most from the implementation of an estate plan. The manner in which the business is held can result in significant estate tax savings. An efficient estate plan also facilitates the transfer of the business upon the death of the business owner.
The use of a buy-sell agreement allows partners to purchase each other's interests in the business upon the death of one of the partners. This technique provides instant liquidity to an estate by converting an individual's business interest to cash. It will ensure that a business owner receives a fair, reasonable price for his business. Through the use of a buy-sell agreement, a purchase price will be established among all parties while the business is vital, rather than determining the value after the death of the owner, when it's vulnerable to being undervalued. The buy-sell agreement will also provide a methodology for determining the market value for federal estate tax purposes. The IRS will generally accept this value if the agreement is structured correctly.
Advance Directives and Powers of Attorney, an Important Part of any Estate Plan
As part of the will drafting process, a trusts and estates attorney should provide the client with a set of documents commonly referred to as advance directives. These documents permit you to do advance medical care planning and are crucial in the event that you suffer an incapacitating disability because they make your wishes regarding your health care choices clear to loved ones and doctors.
There are two types of advance directives: a health care proxy and a living will. A health care proxy enables you to appoint a person whom you trust to make health care decisions for you if you are not able to do so yourself. A living will states one's wishes regarding medical treatment in the event you are unable to express those wishes. It also sets forth whether or not you wish to be sustained on life support if you will not likely recover from an illness or injury that will result in your death or mental and physical incapacitation. The living will describes the kind of care you wish to receive. The living will also asks that your doctors, family members, hospital and the courts honor your wishes regarding life support.
A Durable Power of Attorney also offers protection to an incapacitated person. The Power of Attorney is a general power that gives the independent right to another person to act as attorney-in-fact in a fiduciary capacity for the principal, and consequently the authority to do anything with the principal's property that the principal could do himself or herself. As long as the principal is mentally competent to do so, a Power of Attorney may be revoked at any time. Unless revoked, the Power continues until death.
The Power of Attorney does not take away the principal's power to act on his or her own behalf. Since the Power of Attorney is "durable," the attorney-in-fact's ability to act on the principal's behalf would survive the principal's incompetence or incapacity. A Durable Power of Attorney is particularly important if the principal becomes incapacitated, since this would obviate the need to commence a guardianship proceeding that can be very time consuming and expensive.
It is important to note that a Durable Power of Attorney form that you can buy in a stationary store or on-line is not necessarily extensive enough. For example, an expanded Power of Attorney form would be needed in order to facilitate Medicaid planning.
Choosing a Trusts and Estates Attorney
Since planning for your own death can be a frightening and morbid task, it is important to select an attorney with whom you feel comfortable. Your attorney's law practice should focus primarily on trusts and estates law. Many attorneys will claim that they can do a "simple will" even though they do not concentrate in the area of estate planning. Although these attorneys might be skilled in their primary area of practice, they are not likely well versed in comprehensive estate planning issues, tax consequences, trusts, guardianships, etc.
Choose a trusts and estates attorney who has honed his or her estate planning skills and has "seen it all". A personal reference is always a good place to start when looking for an attorney, not the yellow pages. Make sure that the attorney's legal fee for a last will and testament includes the advance directive documents as well. Although the fee might seem like an expense you'd rather not incur, it is a small investment that should result in significant benefits to you and your beneficiaries.
[1] In 2005 any person can die with $1.5 million and pay no federal estate tax. This exemption amount is scheduled to increase to $2.0 million in 2006 and $3.5 million in 2009. The estate tax will be repealed for 2010, however, the tax law is drafted in such a way that the estate tax will come back into effect in 2011 unless Congress passes further legislation which is signed into law by the President.

[2] There are ways in which a taxpayer may exclude life insurance proceeds from his or her estate, however, this topic goes beyond the scope of this article.
Kevin H. Cohen, Esq., is a trusts and estates and elder law attorney based in White Plains, New York and is the principal of The Law Offices of Kevin H. Cohen, P.C. Kevin can be reached at 914-949-3411 or via email at kcohen@estatelawny.com. You can also visit www.estatelawny.com for more information.
As I've mentioned before, The Black Book on Personal Finance is now available for sale on Amazon.com, Barnes and Noble.com and a number of retailers around the country. I urge you to go out an buy a copy. Let's see if we can make it a bestseller. In addition, I have a book signing at a local Barnes and Noble scheduled for early February. I'll have more information next month.
For those of you who haven't finished making your year-end charitable contributions, I'm going to repeat my message from last month. In an unprecedented move, Congress has recently made temporary tax law changes to encourage more charitable giving. The Katrina Emergency Tax Relief Act of 2005 (KETRA) includes a number of important provisions pertaining to charitable giving. Among these provisions are incentives for taxpayers who give gifts of cash between August 28 and December 31, 2005. As you may already know, deductions for cash gifts to charities are generally limited each year to 50% of a taxpayer's adjusted gross income (AGI). Any gift amounts beyond this limit may be carried over as a deduction, up to five additional years. Effective August 28, Congress has suspended the 50% limit on cash gifts to qualified charities. In other words, this year alone individuals may deduct charitable cash gifts in amounts up to 100% of their AGI. If you have already given more than 50% of your AGI prior to August 28th, you should speak with your professional tax advisor about the different deductibility limitations for gifts made before and after that date. Also waived is the 3% mandatory reduction on charitable deductions for taxpayers whose AGI exceeds a certain level.
I want to wish each and every one of you a happy holiday season and a healthy and prosperous New Year. It's been a very good year for me, my family and my business and I'm looking forward to even better things next year. I look forward to reporting back to you in January as I grade my predictions for this year and offer you new ones for 2006.
As always, I thank you for your interest and consideration, and invite you to contact me if you have any questions or if I can be of service to you in any way.
Best regards,
Greg Werlinich
President

---
Copyright© 2005, Werlinich Asset Management, LLC and www.waminvest.com. All Rights Reserved.